Electrical Fire Forensics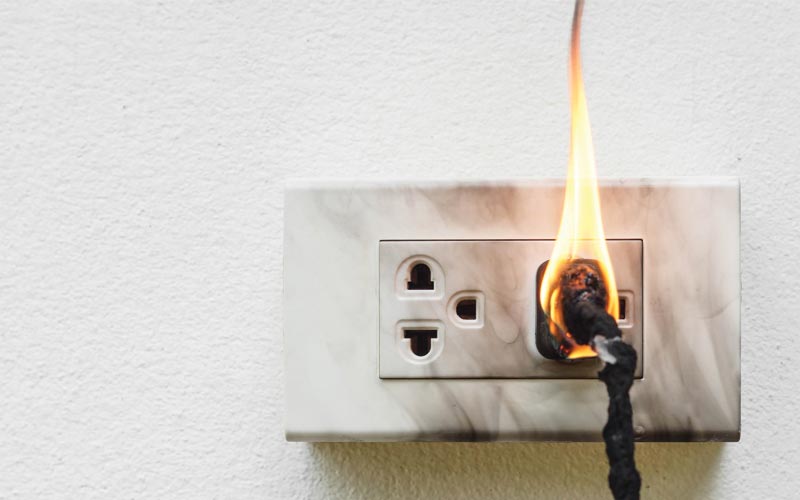 Sometimes electronics don't cooperate and will cause electrical fires. These things happen! In fact, did you know that over 78,000 fires each year from 2015-2019 were attributed to electrical failure/malfunction or distribution? Items such as your toaster, your dryer, or maybe even your oven may short-circuit and cause a fire. Casalinova Investigations, Inc is here to help you determine the origin and cause. It is never wise to overlook electrical fires. When our fire investigators come to the scene, we check all signs to determine what caused the fire. Our investigators must constantly consider any signs that the cause of the fire may have been gas or electric related.
Things to Consider When Determining an Electrical Fire
Just like with any other fire out there, it's imperative the fire investigator find the origin of the fire to determine the cause.
No stones will be unturned, no electrical socket will go unchecked. ALL of the potential heat sources of the fire's origin are considered.
To fully determine the cause of the fire, we go through a checklist to rule out all other possible causes; like arson, etc.
Determine all of the electrical possibilities.
If the electrical situation is not energized, it will be determined that no electrical factors caused the fire.
If an appliance or electrical device is unplugged, it cannot cause an electrical fire.
If the suspect circuit was deactivated at the time of the fire, it could not cause the fire.
We also make sure to not automatically rule out arson in some of these cases. To be fair, an intentional fire could be disguised as an electrical fire. It is not uncommon to see electrical appliances and devices used as tools to set arson fires to a household, building, or automobile. The presence of electric service or appliances at the fire's origin does not necessarily prove that electric caused the fire. Our fire investigators must determine WHY the electric caused the fire. What could be the reason for its failure?
Was the fire caused by cooking on an electric appliance? If so, that is not an electrical fire. Did you leave your brush next to a hair dryer? Is so, since you placed an object within reach of a hair dryer without using proper safety precautions, that is not an electrical fire.
Don't let an investigator who isn't trained in electrical fires handle your case! You will need someone with years of experience to assist you. Casalinova Investigations, Inc is certified to handle electrical fire investigations in Cleveland, Ohio and in many other areas throughout the Unites States. We have investigators in Tennessee, Florida, Iowa, Pennsylvania, and more who are accredited and willing to assist you 24/7 in determining the origin and cause of your fire.
Need more information or have an assignment you'd like to submit? Contact us today by utilizing the form found on this page.
SUBMIT AN ASSIGNMENT
Put Casalinova Investigations on your next case to get the results you deserve.